This week, we are looking at shirt dresses.
A shirt dress borrows details from a man's shirt. Some of them are: a collar, a button front or cuffed sleeves. Frequently made up in crisp fabrics like cotton, the shirt dress often has a looser fit with waist definition given by a belt. Button fronts and forgiving fit make this a flattering look for practically any body shape.



This one is from Alloy for about $40. This would look good with a brown leather corset belt and brown wedge heels or brown knee-high boots! Adorable!
Soundgirl Krishna Dress From Overstock.com: $39.99. Throw on a pair of heels or flats and you'll look like a doll!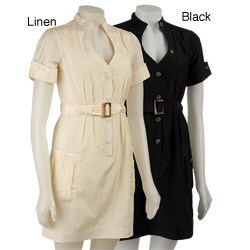 Laundry by Design Women's Mandarin Shirt Dress From Overstock.com: $85.99. This particular shirt dress screams military frock to me, for some reason. I want to pair it with knee-high boots.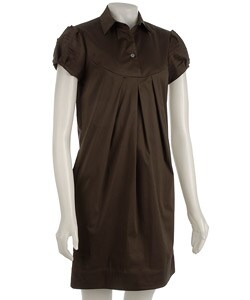 Taylor Women's Stretch Cotton Poplin Shirt Dress From Overstock.com $45. I imagine this dress with a pair of textured tights and knee-high boots for winter. With a nice corset belt and a fitted cardigan. But that's just me.


What kind of shirt dresses do you like, and what would you pair with them?